Posts Tagged 'networking'
Before I get too far, since it's my blog, I'd like to mention that I made a top leadership blogs list for Mitch's Blog; I'm feeling kind of good about that. 🙂
I can't believe I've had this blog this long and haven't ever talked about this consultant's organization I belong to. It's called The Professional Consultant's Association Of Central New York. It's geared towards mainly individual businesses for whom services accounts for at least 51% of their business. In other words, if you make jewelry or pizza you're not really considered a consultant, even if you're self employed. You're considered a consultant if the biggest part of how you make a living is in working with others by offering services of all types, which can be consulting (like me), accounting, training, financial services, etc. The organization even accepts companies that have multiple employees as members and will be charged a corporate rate, where they can send as many members as they wish.
I've been a member since 2002. At the present time I'm on the board of directors and I manage both the website and the blog (I write most of the posts but I also post articles other members send me). I found the group when I was still pretty new to consulting and tried calling a bunch of consultants to ask them for general advice. Only one of them talked to me and he invited me to this group… and the rest is history.
It's not a tip club; heck, there's too many of those around already. Instead, it's an educational and networking organization where topics are selected with the intention of imparting both knowledge and wisdom that independent contractors could use. Occasionally we'll have guest speakers that involve those who have achieved great success, those who can offer advice on things like social media, finances and general legal advice, as well as those who are involved in events and organizations within the community which many of our members might want to know about.
One of the special things our organization does that very few others do is what we call our roundtable events. That's where we'll take a topic that we believe will be of interest to our group, then have one of the members moderate it, which often includes an introduction to the topic, and then everyone gets to share their thoughts on it. I've gotten some of the best information and education from these sessions because, as you might expect, the average age on the consultants in the room is around 50 or so.
A couple of the roundtable discussions we've had this season include: Public Professionalism & Social Media (I led that one) and Networking 101. Two of the programs we've had were: Cyber/Internet Security for Small Business and Syracuse CoWorks/One Million Cups.
We also have member spotlights, where each of our members gets to do a 3-5 minute presentation about their business or their skills, then entertains questions and suggestions for the next 5 minutes. Members find that valuable on both ends because one gets to learn how to refine how they define themselves while the membership gets to know each other better. Once again, there are no other organizations that do such a thing.
Finally, the main thing that explains what are group is about is our code of ethics, which is the organization's most visited page. Members must be in high standing and be approved to join, and if they breach the ethics policy they're kindly asked to remove themselves.
"Oh the times they are a-changing!" – Bob Dylan
I'm trying not to consider myself as being all that old. I'm also trying not to seem overly nostalgic. Yet things have changed, and not all of them for the better.
Produce Marketing Association via Compfight
Last Friday I had lunch with one of my local buddies. He said that he hardly has any friends and doesn't get out much except for work. I mentioned that I thought he was a great connector and he said that part was sometimes true, but that it was very hard actually getting people to get out of their comfort zone to actually meet him or others he's trying to connect with each other.
I've noticed the same thing over the last bunch of years, but I had to mentally step back and consider this. I thought to myself "Heck, if this good looking young guy has this kind of trouble, then what am I griping about."
When I first got into business on my own back in 2001, there was no shortage of places where people could and would network together. I really was just getting my footing at that time because I'd mainly worked out of town, so I didn't know that many people in the Syracuse area. This was also before the days of social media, so maybe it was the only way we could connect with each other.
Back then, I was meeting someone new for lunch every few weeks or so. Occasionally it was with a new organization I was checking out, but for the most part it was one on one. Truthfully, most of the time it was with people who were hoping I'd become a client, which never happened, yet they'd know who I was moving on from there; I could live with that.
Then I left town for a year to consult at a hospital in Westchester County. When I got back home, I noticed that things had changed somewhat. It was harder to get people to meet individually for lunch. Some people wanted to meet for coffee before 8AM; that wasn't happening since I not only try not to get up that early but I don't drink coffee. However, it was a low number; most people just weren't interested.
It was pretty quiet for a while there. Then we started having things like Tweetups and other organizational get togethers of hopefully like minded people, and that was pretty cool. We even had a Tweetup kickball game that was amazing (and hot!).
Then I left town again, this time spending 18 months in Memphis. Now it seems that even the planned networking events, such as the Liverpool Chamber events, don't draw all that many people… at least not close to the numbers they used to.
Other events are also down drastically. Last year there wasn't a single tweetup locally, and there was only one very small get together of a local blogging group that had a pretty successful start but fell pretty much off the earth. As far as I know, there are no plans for anything in 2016 at this point.
As for lunches… not counting my friends, in 2015 I met 1 person for lunch, and in 2016 I've now met 3. Two of those were people who asked to meet me, which means that my record for asking and getting people to meet me for lunch is pretty dismal.
Maybe I have it easier than most others since I mainly work from home. Maybe I'm living in the prehistoric era of networking since most people connect more with each other online, and when they have a free moment they'd either like being with friends and family or off doing something on their own.
I had thought it was only me until I had lunch last week with my buddy. Folks, it seems there's a serious disconnect as it pertains to local networking. I refuse to believe it's just here in Syracuse; this has to be more of a national thing. How funny it is that I can interact online with people all around the world yet I can't get a local person who I've met at least once in person to meet me for lunch.
Oh well, life goes on. At least I'm not scared to eat lunch alone; Twin Trees loves me. 🙂
Of all things, I didn't think I would be writing about networking again so soon, but that was the topic of the last article here. Yet, I find myself talking about the Liverpool Chamber networking event at the Maplewood Inn this past Tuesday. I have both some amazing pictures to show you of some of the renovations at the hotel, as well as a discussion of the networking event itself some lessons that need to be learned.
I hadn't been to the Maplewood in a number of years, so my eyes were stunned when I walked through the door and saw how they had changed the lobby area. It's absolutely beautiful and comforting and made me wish I had a larger house so I could ask that designers to come over and work magic for me. I don't have the words to describe it, so I hope you enjoy the picture that I'm sharing here. As I looked beyond the lobby, I saw their new lunch and breakfast nook area, which is still under some renovation that is going to be a marvelous space.
Once I got over being shocked, I walked down the hall to where I could pick up my badge for the networking event. I have to tell you, the Liverpool Chamber really is a quality group. On this day, they were honoring new members, although I didn't know that at the time; I tend to forget to fully read the notices when they come out. This would explain why there were so few people I recognize when I first walked in. This also helped to lead to what became a very uncomfortable situation.
While I was walking around, not really paying much attention, I did run into someone I know. I said hello, he turned around and then immediately said out loud "Well, here's the biggest left wing liberal I know." That began a conversation about politics I really wasn't ready to have. In general, I don't like discussing either politics or religion either when I'm working or when I'm networking because if people don't know you, the last thing you want is to get into a conversation about either of these things.
Needless to say, because I wasn't prepared for this possibility, I ended up getting into this conversation. It wasn't long before I started getting irritated and I found myself trying to escape the conversation, which I finally did. Still, it left me with a bad taste in my mouth for a little while, but I didn't have a lot of time to ruminate on it.
We ended up sitting at the same table, but once other people were there we pretty much didn't have to interact with each other all that much. We went up as a table to get our food, which was supplied by Uno's, and although there were a lot of choices, since I tend to be particular I grabbed two sandwich wedges of turkey and bacon only. Those were tasty enough for me.
The table got to talk around 15 minutes before it was time to get to Chamber business. This eventually included having one of the chamber board members introduce all the new members, which turned out to be a much better process than in the past because it moved along a lot faster. Then they had a raffle, from which I didn't win anything, and finally it was all over.
Or so it could have been. Instead, the hotel had some representatives conduct tours if we wanted them, and since I had never seen any of the rooms previously at the hotel I decided to take them up on it.
There are three levels to the hotel. We were shown a couple of on the first floor at the beginning, and these are newly renovated rooms because they're trying to promote themselves as an extended stay facility. These rooms were great, because not only did they all have refrigerators and microwaves, but they each had convection stoves so one could prepare their own meals if they so chose. As someone who has traveled a lot for business, I thought this was a wonderful feature. In rooms with one bed, there's also a couch and a lounge chair, but in rooms with two beds those items are missing. Still, the rooms are nice size and the rooms we saw had shower stalls instead of bathtubs. That works well for someone like me.
We were then taken up to the second floor, where they have the newly renovated workout room. Each of the treadmills has its own mini TV screen, and they also have a weight area and an open area of where one could put a mat down and do other types of exercises. On the wall above the door one goes into there was a motivational message painted up there, and on the wall above the window was a very interesting piece of art with all kinds of bicycle wheel frames. That was very cool.
The final room we got to see was on the third floor, and it was one of their two Jacuzzi rooms. This room reminded me a little bit of the Homewood Suites because it has a larger kitchen, and the living room is separate from the bedroom, where the Jacuzzi resides. All in all it's a pretty cool layout, and if I had a gripe it would be that the bedroom seems small having a Jacuzzi in there.
They're still in the process of completing the renovations, but I liked what I saw. I can't tell you anything about customer service or the food in the restaurant, but for a standalone hotel I think they've done a nice job.
And there you go, a little bit of everything.
Every once in a while I'm open to a little bit of silliness and fun; that's what this is going to be. Of all things I got nominated for what's called the Creative Blogger Award.
Before you go congratulating me on it or anything else, let me tell you that, in its own way, it's more of a meme than anything else. In essence, someone gets nominated, has certain criteria they're supposed to follow, and part of that criteria is nominating other people and informing them that they've been nominated, with hope that they'll participate. Obviously no one is obligated, and it's my bet that at best one person "might" do it… though it's doubtful. lol
Let's get the rules out of the way first, so no one can say that they didn't know what they were supposed to do:
1. Thank and post the link of the person who nominated you; 2. Share 5 facts about yourself to your readers; 3. Nominate 10-20 blogs and notify them; 4. Post the rules so others know what they are (which I've just done).
The person I have to thank is Holly Jahangiri, a writer and blogger and all around smart person; yeah, I'll give her that. I've not only interviewed her on my other blog but I interviewed her on YouTube also, and it's both the most watched video on that channel and has the most comments. Just sayin'…
Next, I'm supposed to share 5 facts about myself. This one is a little harder than the others because a few years ago I did a post on my other blog where I gave 100 facts about myself, which I can also blame on Holly because she did it first. Good thing she didn't ask me to jump off a bridge, though she did try to convince me to eat nasty fried bugs (nope, that's never happening…). Still, that was 3 years ago, so let's see what I might have that's new:
1. Late at night on September 13th, 2001, after almost 60 hours straight of watching TV, turning channels to find out whatever I could about the tragedies on the 11th, the only way I could break away from it all was to put on the movie Independence Day, starting at the scene where the president makes the speech to the pilots about to launch an attack against the aliens.
2. The reason I won't go see another Jurassic Park movie is because I saw the original at a midnight showing at 12AM Friday morning. It was so powerful an image in my mind that I didn't sleep for 3 days (I sense a pattern here) and had to go see it again the following Monday, during the day, to get it out of my mind.
3. The very first song I wrote, back in 1979, actually placed in the top 600 of a song contest 3 years later out of 25,000 entries. It's the only time I ever entered anything I've written into a contest.
4. I used to teach voice at the old Metropolitan School of Music in the early 80's, unofficially. I had two students and never had either of them pay me for it. Neither were ever going to be professional singers, but both wanted to sing a little better.
5. It's true that you shrink as you get older, as things start to settle based on health and, of course gravity. I've lost an inch over the last 10 years; I hope it stops there.
Three down, one, or ten depending on how you look at it, to go. I could have written this post on this blog or my other blog (I've only been referencing one other blog because the other 3 wouldn't have worked for this…) but decided to write it on this blog because I'm going to nominate many people from the Syracuse area to participate. That's why I mentioned earlier that I don't think many will do it but hey, why not put it out there right?
Anyway, I'm going to mention the names and link to people and then, when this goes live, I'll let them all know, best I can, that I did this. Who knows; someone might even comment on this post. Let's begin:
1. Joanna Giansanti of Giansanti Design, in hopes that maybe it'll inspire her to start writing on her blog again;
2. Chris Malone, The Infinite Abyss(es), because I think he's a brilliant writer who hasn't written a new post in a while;
3. Stef Noble, stefnoble, who's presently working on a 30-day blogging challenge and might decide this is worth giving a shot;
4. Mark Bialczak, whose eponymous blog is truly entertaining and might find this kind of fun;
5. Renee Benda of Bendiful Blog, one of the original organizers of our local blogging in-person meetups;
6. Troy Swezey of Troy Swezey v2.0, who has two blogs but this one probably fits best; one of the best commenters on my other blog;
7. Brenda Lee of My Girly Parts writes on a lot of topics for adult women, though I tend to go to her blog & comment on stuff (often the only male there lol);
8. Josh Shear, another eponymous blogger (by the way, that means the blog is the same as their name lol), who I'm definitely thinking won't do this but it'll still be fun mentioning it to him;
9. Adrienne Smith, another eponymous blogger who's not going to participate since her focus has changed, yet I think people should visit her blog;
10. Arlee Bird of Tossing It Out, because he's been writing a lot time, has lots of writing challenges, and might think this is one worth taking a shot at… or not… 🙂
I was right; that was the hardest part to do but I did it. Now it's up to those of you I named to decide whether you're up to the task, want to be up to the task, don't care and want to be left alone, or say later "I didn't know you mentioned me" when I've told you on Twitter that I did. Oh yeah, if you do decide to take on the challenge, copy or download the image on this post so you can use it on yours; after all, it's an award! For now, onward & upward.
It's amazing how fast time goes by. Friday morning I went to a seminar called 7 Habits of 7 Highly Successful People, based on the Stephen Covey book 7 Habits Of Highly Effective People. This is actually the second one I've gone to; the first time I went was in 2007, and I've missed all the others since then. Shame on me!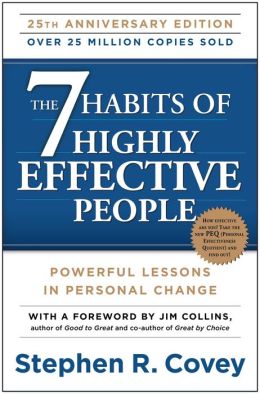 Instead of being held at the Centerstate CEO building, as these were the folks sponsoring the event, this time it was held in Recital Hall at Onondaga Community College, in a building I'd never been to before and thus was a little late in arriving; it was also snowing and raining at the same time, which figures; welcome home to me. 🙂
Matt Mulcahy of CNY Central moderated the event, and the participants, less Jason Smorel from the Syracuse Chiefs, were:
Kimberly Boynton, President & CEO, Crouse Hospital; Eileen Brophy, President, Brophy Services Inc.; Amy Collins, President & CEO, CNY Central; Bob Daino, President & CEO, WCNY TV/FM; Eric Hinman, Partner, Rounded.com; Dominic Robinson, Vice President of Community Prosperity, CenterState CEO. For just about 2 hours each presenter got up, told a little bit about how they got to where they are in the first place, and then gave their 7 habits, explaining each one. One of the most amazing things is that there were some themes that were common for all of them. As someone who writes and speaks about leadership, I was impressed that all of them believed communications and transparency with employees is very important, as well as honesty. Also, every person talked about making lists to help them concentrate on their tasks and goals, not only for the day for long term as well.
Of course I have some personal insights about each speaker as well. I have to admit that this time around, unlike in 2007, I only knew of one of the people presenting beforehand, though I'd never met her, and that was Kimberly Boynton. It's amazing how far she's gone to become the top person at Crouse Hospital, a place I used to work. What was shocking is that she mentioned how she decided not to move into the president's office and instead shares a space with her assistant. When you want to see her and walk into her office, she's right there across from her assistant; no gatekeeper for her. I assume she has a space for privacy when needed but that was a very interesting concept.
Bob Daino led off, and he was the true humorist of the group and easily the most comfortable speaker. He told an interesting story that most of us can learn a good lesson from. He mentioned that years ago a guy came into his office and asked him if he wanted the good news or the bad news. He said he wanted the bad news, so the guy told him. Then he asked what the good news was and the guy said he asked which one he wanted and that's all he was getting. Years later the guy was retiring, and he asked about that day, which the guy remembered. The guy also remembered what the good news was, but said he was taking that one with him. In essence, the point is to always listen intently, not only to what someone is saying but how they're saying it, so you can ask the right questions.
Amy Collins was interesting in that she rose to her position via sales and really only had experience in that area and not all the other areas of media. So she's been doing shadowing programs, where she follows different people around for a day or two to see what they do and to try to understand their needs. In essence, she's Undercover Boss without having to go undercover. That's important because many leaders really don't know what their employees go through and deal with on a daily basis, especially if they've never done any of those things.
Eric Hinman was something entirely different. He didn't talk about his business as much as being an Ironman triathlete, which was quite impressive as he's ranked #26 in the world. He said he does the same type of thing in business that he does as an athlete, which means planning his day, making sure to do certain things every single day because it's important to stick with a routine and take care of the details, and to always plan on getting the things you need to get done even when other things are getting in the way, such as his traveling back and forth between New York and California. He also owns other businesses locally, such as crossfit gyms.
Eileen Brophy's story was the most touching. She came to entrepreneurship unintentionally with the unexpected passing of her husband and didn't know anything about the business. She said it took her 4 years to figure it all out, and along the way realized that she didn't want to be all about the business like her husband was. So she learned how to delegate while learning everything about the business, did shadowing like Amy above, and also did some of the cleaning services to show her employees that she wasn't above getting into the mix of dirt and other nasty stuff. A crash course in business without the benefit of school or anything else; proof that it can be done.
The final presenter was Dominic Robinson, and in his own way he's helping to revitalize areas of the city that have fallen into hard times and have a low economic base. His most interesting story was saying how he talks to two people almost every single day. One is a staunch conservative who used to be a banker, and though their ideals are totally opposite the insight he gives helps Dominic see certain things clearly. The other guy is an uber liberal who, once upon a time, ran for the office of vice president of the United States via the Communist Party. He said this guy doesn't always think he's doing enough, yet keeps him grounded on the true mission of his work. Whereas I'd admit that I probably wouldn't do well with people as diametrically opposed as these two, it is a great lesson in taking opinions from others who might not always believe as you do because other points of view are always helpful in the long run.
Fantastic stuff, and a very appreciative crowd helped make the event special. I even got video face time when Matt scanned the crowd while making a video from his phone showing the enthusiasm of the people in the audience; I'll take that any day. I can't wait for next year's event.