Scott Gardner is the owner of Agilé Marketing Services. I've known Scott for about 14 years, and he's always offered great insight into the branding and marketing process. He's worked both with local and national clients, helping them get more clients and business by sometimes using what others might term unorthodox principles but which are actually dynamic and logical. I hope you enjoy this interview; if you do, Scott answered more questions on another blog of mine.
1. Let's get this out of the way first. Which dorms did you live in at SUNY Oswego and how did you enjoy the experience?
My wife wouldn't let me live in the dorms! Hehe. I actually got my degree at Oswego just after 2000, when I was already in my late 30's. I have a very nice house near Phoenix, on a small hill across from a cemetery. The neighbors are quiet. Mostly. Read the rest of this entry »
Dr. Emad Rahim is probably one of the most accomplished people I've ever had the pleasure of interviewing, and he's "kind of" from right here in central New York. His is an intriguing story, starting off in the killing fields of Cambodia, then a refugee camp in Thailand, eventually making it to Syracuse where he lived his adolescent and teen years within an abusive family and selling drugs to help support his family. Eventually he saw the light to a better life and now, after a high number of accomplishments, he's back in Syracuse trying to help those who deserve to live a better life.
Let me throw out a few bonafides from his latest book Resilience:
Emad is a Fulbright Scholar, TEDx Speaker, writer for Forbes and CEO Magazine, featured in Huffington Post, WorldClass Magazine and Syracuse.com (they beat me to it lol), Kotouc Endowed Chair at the Project Management Center of Excellence and an associate professor at Bellevue University, earned his doctorate via SUNY Empire State College with credits from Harvard, Tulane and Maryland/UC. He's also served as a Dean for many universities across the country.
Trust me, there's a lot more, but if I type it all we'll never get to the interview. Let's get started:
1. To prove you're from Syracuse, name 3 things you like from your past here.
As a kid, my favorite memories were skipping class at Grant Middle School to play video games at Buttons Arcade on the north side, Friday nights at Dance and Skate and teen nights at the Country Club.
2. How did Syracuse University miss having you as a student?
I earned my diploma from Fowler High School through the Occupational Learning Center (OLC), which focused more on teaching us vocational skills at Central Tech. I had a learning disability that negatively impacted my writing, spelling, math and testing abilities. I barely graduated school and was not aware of entrance exams like the SAT or was equipped to complete a college application without adult assistance. A school as prestigious as Syracuse University seemed out of reach for me and my peers.
Those that graduated, were either going to community college or was trying to secure a full time job. In addition, I was the oldest in my family and was responsible for helping my mother and siblings. I ended up going to Onondaga Community College (OCC), and worked multiple jobs in the evening and weekends to help my family. OCC provided me with a great education and the opportunity to find myself.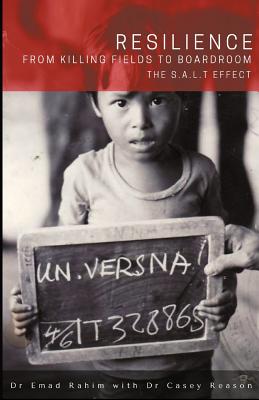 Resilience
3. Let's talk about the book. It's a mixture of stories from your past and lessons that help explain the SALT principle. Who came up with that as an idea, you or Dr. Casey?
Dr. Casey Reason and I came up with the SALT model together. I spent a few days at his house in Prescott Arizona to design the layout of the book. Casey had written dozens of leadership books and was an award-winning author. After we had worked out the different type of stories that will be included in the book, Casey developed a storyboard to organize all of the content. Based on the topics covered and transition of the stories, and being a Syracuse native, the SALT model was born.
4. Many people living in this area believe that Syracuse gangs aren't really gangs, because they try to compare them to those in larger cities. Is it a different structure or the same structure but on a smaller scale?
We have/had real gangs here for many years. When I grew up many of the gangs were connected to different housing projects in the city. When I was in high school certain neighborhoods and city blocks started associating themselves with gang names and connections. In addition to the local gangs, we have/had Latin Kings, Bloods and Crips. I went to school with a lot of them.
We also have a Gang Violence Task Force, and in 2003 the RICO Act was used to indict several local gang members in the city. If you know anything about the RICO Act it is used to do after organized crime, which was initially developed for the Mafia. So, I don't think it's a different structure or scale. Gun shootings, murders and robberies are all terrible crimes. While gang culture plays a role in them, I believe things like poverty, drug abuse, and the lack of education, opportunities and the support of loving parents play a larger role in our problems with violence.
5. You got some tough love from a couple of people who supported you and convinced you to change your ways. Why do you think they were drawn to help you, and are they still around?
I am unsure why certain people decided to be my mentor, but as a young adult I knew that modesty and honesty was key to securing professional mentors. I would attend different events and functions in my early 20s and made it my job to learn about people, not what they did for a living. I would work the room, and try to find opportunities to add value to a conversation or solution to a problem. These types of interactions got me invited to private conversations with people that eventually become my mentors and coaches.
As a kid, I had a hot temper and got into a lot of trouble. Will Dowdell, a former administer at Fowler High School, took upon himself to mentor me and became my father figure. I learned what it took to be a man through him. He is still in my life today. Mr. Dowdell somehow saw potential in me and pushed me to succeed.
6. When you decided you were ready for a change, what steps did you take to begin the metamorphosis?
Emad & Cjala
I developed a career plan that included the need for a college degree, developing new skills, obtaining more professional experience and growing my network. As my career aspirations change, my plan gets modified. But, the foundation stays the same. As I got more education and new experiences, my network and skills grew. I started to travel more, became more cultured and my professional network pool evolved. This also impacted my self-esteem, self-confidence and leadership skills. The more I learned, the more ambitious and curious you became.
7. Can you briefly explain SALT for the readers and how you came to designate what the "L" stood for?
The SALT model of Surviving, Adapting, Loving and Transforming was used to help me overcome the adversities that I faced in my life. Love to me is the most important model because we often overlook the power and need of Love. We take it for granted. Surrounding yourself with people that truly love and care about you is critical for success.
When we think of successful people that we admire, we often overlook the friends and family members that are there supporting them throughout their careers. We also don't realize that developing and growing Love takes hard work. We want Love unconditionally, but often don't express it that way with others.
8. What are the 3 top challenges you believe the city needs to address to reduce the poverty and get people moving forward again?
1. We need to improve public school education and deal with school bullying and drop-out rates
2. Create job diversity that starts in high school and turns into career opportunities after graduating
3. Having more community programs that bring people together and are affordable to the public: after-school, internships, family events, festivals, arts exhibition, health programs, etc.
9. You started from a background worse than most Americans could have ever conceived and have ended up achieving so much. Do you feel destined for success or do you see some of this as a path that anyone can achieve with a bit of perseverance and belief in oneself?
My past makes me humble and grateful. I could have been this angry kid that turned into an angry man, and blame everyone for my situation. But, I came to realize that my childhood experience helped to make me the man that I am today. This is why I believe everyone has the ability to achieve greatness. I am great example of this.
10. Your turn; what would you like to share about you, about your books, how to contact you, about Syracuse and your favorite movie of all time?
Here are some links to connect and learn about my work:
Website: www.EmadRahim.com
Amazon: https://www.amazon.com/Dr.-Emad-Rahim/e/B006HJSWOO
Twitter: @DrEmadRahim
Blog Content: http://www.intelligenthq.com/emad-rahim/
Speakerpedia: https://speakerpedia.com/speakers/emad-rahim–2
Thanks to Dr. Emad Rahim for this interview; lunch is on him! 🙂 BTW, this post contains affiliate links.
I figure that since it's a Sunday and, for some, the day before a holiday, that many people might not want to read a long article. Instead, I thought I'd give you a break and instead put together a post highlighting people from central New York that I've had the opportunity to interview on this blog, other blogs and my video channels. This is prepping you for a big time interview I'll be posting here on Tuesday; that should get you hyped!
The first interview I ever did on this blog was with a local artist named Isaac Bidwell. He used to be a server at Julie's Diner, but he's since gone on the road publicizing both his art and his plush dolls. It also turns out that Isaac's the only person I've ever interviewed three times, twice on this blog and once on my I'm Just Sharing blog. When I get a chance I'm going to interview him one more time because of the strides he's made since the last interview in 2013.
The next interview to highlight was with Rich Kudlick, the owner of Reid & Zutant Insurance. Rich is a local insurance agent and probably my best Liverpool Chamber friend, always trying to encourage me to go to the luncheons. He's an independent insurance agent, and I was glad to interview him because up until then I had no idea exactly what these people did.
The next one is probably one of the two strangest interviews I'm going share. This one was with Maria Snyder, who at the time was a CPA with her own consulting company who was also doing social media, and that's how I met her. Now she's a partner in Dimarco, Abiusi & Pascarella, P.C. and is a full time accountant. I'm sharing this one because the things she says concerning social media are still good things to read about.
The final interview I'm sharing from this blog also is with the second person I interviewed more than once (I'm talking about local people), but not twice on this blog, like Isaac above. She's also probably the most famous at this juncture, so I honestly get to say "I knew her when". 🙂 This one is with Lauren Greutman, who used to go by I Am That Lady but has now become her own brand. Her specialty is helping people get out of debt and save money, which is why she made a great person to be the only one I ever interviewed for my finance blog.
On my business blog, which is called Mitch's Blog (that makes sense, right?), I used to do a 5-question survey with multiple independent business owners. About half of those I interviewed are from out of town, but half of the rest are still in business, so those are the only ones I'm going to share. At that time I always asked the same 5 questions; I still think they gave pretty good insight. Those folks are:
George Chapman GW Chapman Consulting Danny Chawan Srim Enterprises Jill Hurst-Wahl, Hurst Associates Sean Branigan, Communigration Robert Whipple Leadergrow
As far as interviews go on my IJS blog, only two local people have ever been featured there. One was Isaac above and the other is Mark Dyson of Spinland Studios. This was one of those times when our Twitter accounts converged, and once I realized he was a local guy I thought he'd be a fascinating person to interview.
Now it's time for the video interviews. Instead of making you go to YouTube I'm going to pop all the videos up here. If you still want to go to YouTube you can highlight and paste the link underneath the video & watch it there.
I'm starting off with the second strange video I mentioned above. What makes it strange is that one, I think the company has dissolved, and two, one of the stars is my buddy Joe Cunningham. This interview was for Swell Communications, and it was still both fascinating and entertaining:
https://youtu.be/9mxeBrRKy2Q
This next interview is with my longest friend from this area, Chuck Price of Measurable SEO. He's often a featured writer on Search Engine Journal and even though I've been in this world for a long time I'm always amazed at his level of expertise:
https://youtu.be/MBfcEyj6rXk
Next on the list is Steve Borek of End Game Business. He's a certified business coach who now lives in the Philippines, but when I interviewed him he was living in central New York and he was my wings and hamburger buddy. 🙂
https://youtu.be/paXEk-1Mu_0
Now we have Jesan Sorrells, president of Human Services Consulting and Training, which is geared towards conflict resolution. This was one of the most fun interviews I've ever had, one that even my wife laughed a lot at.
https://youtu.be/099tVM-QomM
Last but not close to least is my ice cream buddy Joanne Del Balso, who owns No Fuss Accounting but is big into both social media (she's presented at multiple organizations around town on the subject) and is big into local women's organizations, most specifically the WBOC.
https://youtu.be/0TdUwCeoXjE
Well… maybe I lied about not having to do a lot of reading, but this particular post should be easy for everyone to consume. I hope you enjoy learning more about local business people and be sure to think of them if you're even in need of any of their services or products.
Lauren Greutman is a star. She's on Bridge Street often, has a very successful blog, and was highlighted in Syracuse Woman Magazine as the May cover story, was highlighted in a promo video for it, and also writes articles for them. She's also a very nice person; the first time I met her in person, after we'd been talking on Twitter for a while, we hugged each other as if we were old friends. I hope you enjoy this interview.
1. You are that lady! How did you come to be I Am That Lady?
I was washing the dishes one night after teaching a coupon seminar where one lady asked me if I could start a blog. I thought to myself "I am just that crazy coupon lady" and that was where the name was born. I searched on GoDaddy to see if the domain iamthatlady.com was available and was shocked that it was!
2. I don't remember how we first made contact, but I know I saw you on local TV, Channel 9's Bridge Street. How did you get to do that and will you be doing it again some day, maybe on a more regular basis?
I think we started chatting on Twitter first, and then the rest is history 🙂
I actually went on Bridge Street for my first time about 2 months after my blog launched because I was teaching a coupon seminar at a local event and they wanted someone to talk about it. They sent me and I was so nervous. I really hit it off with Chris, Kaylee and the producers and they just kept on inviting me on. They started asking me to co-host about 2 years ago and Chris and I loved working together. I was doing a weekly segment but it was just too much for me. I go on about once a month usually to co-host and try to put my own segment in there as well. I was actually applying to be the co-host after Kaylee left, but then I found out I was pregnant with my 4th child and knew I couldn't do it all. I consider it a blessing that I got pregnant because my goals are much more focused on my brand now.
3. What prompted you and Renee Benda into starting up the local blogging group?
It is actually all Renee, I just helped her organize some of the social media elements.
4. You know a lot about the local businesses and also deals from national businesses that are in central New York. How do you get all of your information?
I get hundreds of emails per day from PR agencies, companies etc. I look through all of them and forward the ones that I know my readers will like onto my assistant who does most of the postings. It is tough work looking through them all and weeding out the good ones, but I try really hard to post only the deals that my readers like and that are valuable to the main goal of my website.
5. On my finance blog I wrote that sometimes a deal isn't a deal if you have to drive too far for it with the cost of gas these days. You live in Oswego, which means you're probably driving far for many of them. How do you reconcile distance with savings?
I totally agree! Since I live in Oswego I do most of my shopping there. I do not shop at Wegmans unless I am up that way. I do most of my shopping at Price Chopper, Aldi, and Walmart because they are all about 5 minutes away from my house.
6. How do you believe your online business grew to the point where your husband was able to leave his job and work with you from home? I know many people would love to be able to do that.
I think networking has been key in my success. I started going to blogging conferences and learning how the bigger blogs were doing it, I read all I could about SEO and social media. I had dedicated over 60 hrs per week for the past 3 years into my blog/business and it has paid off. My husband has been an actuary for the past 12 years and worked in Syracuse. He worked long hours and life was getting too stressful. We prayed about him leaving his job for over a year and after our 4th child was born, we knew it was the right time. I feel incredibly blessed that I was able to get through the tough times of being a business owner and blogger while being a mom. All my hard work paid off and we now get to live a life that is a dream!
7. I think you'd mentioned that your husband was going to become more of a writer for your blog so that different types of articles could be added. Will they be included within your normal content or will you set up different channels for it all?
We will be changing some things on the blog mid year which we are VERY excited about, but for now he is blogging under his name.
8. I know you've been working on a local blogging conference that, unfortunately, it looks like I'll be out of town and won't be able to get there. Can you talk about that and how you got into working to set it up?
Dan Morris is a blogging revenue coach that I met while in Atlanta 2 years ago. He is brilliant and has helped me learn so much. When I heard that he was starting his own traveling blogging workshop series I was SO excited to bring him here to Central New York. There are so many talented bloggers here that want to dig deeper into making money at this, and I knew that they would learn so much from him. We don't have many advanced blogging resources in this area, so I thought it would be the perfect fit.
For anyone who wants to see what the seminar is about and wishes to sign up for it they can go to Blogging Concentrated and use the coupon code iamthatlady for $50 off!
9. I love when local folks get known nationally as well. Where have you traveled, who have you met, and are any of them as intriguing as me? lol
I have met many fabulous people. Last year I met with Michael Hyatt and John Acuff. I have bflown to Chicago, New York City, Los Angeles and Atlanta to meet with companies or speak at events. My blog was featured on air at Anderson Cooper's day time show last year and I've appeared on the 2nd largest news program in the US in New York City. I've seen and met a lot of amazing people!
10. Talk about your book, why you wrote it, why people should buy it, and when it's coming out.
We have an ebook coming out called 'Budgeting That Works', which comes with 2 FREE customizable budgeting spreadsheets, a 10 day email course, a live webinar Q&A, sessions with Mark and me and much more. We've had to push back the launch for the book for now.
11. I've never done an 11th question but this is your time. What do you want people to know about you, your website, and anything else we haven't already covered?
I want people to know that blogging is very hard work. Posting deals is the easy part and probably only about 10% of what I actually do. There is SO much that goes on behind the scenes. That being said, I am SO passionate about helping people learn how to budget and save money. I work very hard to bring only the best deals, coupons, and local products around and am very proud of what I do!
My blog is Lauren Greutman (formerly I Am That Lady), and you can also follow me on Twitter at @laurengreutman, on my YouTube Channel, and also at Facebook.
There's good things that can happen when I like you and I'm fascinated by you. In this case, it's a second visit with my friend, the artist Isaac Bidwell, whom I interviewed not only above but did a different interview on my other blog and then mentioned because of an art show he produced locally that I went to. I'm fascinated by the local art scene and it works out that I get to see some of what Isaac's involved in, whether it's his art or not. So, let's learn more about the Syracuse and central New York ark scene:
1. When last we talked you were getting ready for art shows all across the U.S. How did that go?
Extremely hectic. I have 3-4 galleries in California that I show with regularly, another in New York City and a few other ones throughout the states I show with from time to time.
2. These days you're helping to promote the art of others. How did that come about?
About 8-10 years ago I was in an Oswego art collective called Hat Factory. We were all about getting artists' artwork out to the locals. After a few years of that (as well as sitting on the board of directors of an art assoc.) I realized I needed to do things on my own, not necessarily as a group effort.
After playing around with some ideas, I decided to publish handmade art books. I realized that a majority of the artists I was encountering were very lazy and unfocussed. So I started publishing artists from other countries. For the size of the project, things went well. Since then, then books have featured many emerging international artists and some that are way beyond in all aspects of their careers. I'm actually working on a horror book, showcasing the best horror artists in the world. It's extremely flattering getting artists to work with me, especially ones that have careers I've followed for some time.
The other thing I do now, which I'm assuming brought this question on, is curate again. I've had to look hard, but there's some really great local artists, ranging from novice to expert. I organized an art show about every three months at Tymeless Tattoo. As more galleries close in the city (all my favorites are now closed), it's great to have a place that gives me total freedom to show when and whom I want. The artists are here, now it's just getting the community to appreciate them.
3. Tattoos; I have to admit that it's probably only in the last 5 years or so that I've come to grips with it being kind of a natural thing, not having grown up around it. Can you understand how some of us older folks might wonder why gorgeous women might get tattoos and why it sometimes takes a long time to get used to it?
Not really, I don't understand the disconnect. It's a way of expressing yourself through what's on your body. Unfortunately sometimes it's a $50 tattoo, then I wonder why gorgeous woman have those tattoos…
But in all seriousness, tattooing has come a long way. The machines are better, the ink is better, and frankly the artists (depending on where you go) are better.
4. I know you've sponsored art shows with only paintings and such, but have you ever considered sponsoring an art show of pictures of tattoos?
We've joked around about doing something like that at the shop. Our next show will be old school flash, so that will be pretty close.
(Tattoo flash is the artwork seen in tattoo shops. It helps customers pick what they would like on them. While there is no tattoo flash as Tymeless, many of the artists, will draw in an old style (old school).
5. Back to art itself. I see some of what you show on Facebook and it looks different than what you used to do. Am I wrong, and if it's different why?
I've messed around with art that allows me to draw faster. I do a lot more sketch work than before. I also have been doing lots of art shows with themes, such as Walking Dead, Wes Anderson and Saturday morning Cartoons. That can effect how and what I draw.
6. Is there an art scene in central New York where artists get together to appreciate each others work and talk about the craft?
There now is actually. I'm organizing a drink and draw. A drink and draw is a social meeting, where artists can meet up at a pub with their sketchbooks and sit back with a pint. It's a great way to interact with each other as well as be seen in the public.
I'm big into reminding the city that we're here. Syracuse, like many other smaller cities, is not very art friendly. Now that I have a studio here, I plan on doing my best to change that.
7. Are you only drawn to modern art or are there artists in history whose work you appreciate? Have you ever tried to emulate any of them?
I had a show a few months ago out in Long Beach that had the theme of just that. We took older classic works, and drew them in our style. I picked Klimt, please Google him if you're unfamiliar with the work, it's outstanding.
8. In your opinion, should the goal of an artist be to create what they feel and then start again or is it legitimate to try to make a living from it?
I'm not sure if I understand what you're asking, so I'll put it this way…
Personally when I talk to artists I look at it this way, is it a hobby or do they want it as a career? Most say career, but they get uppity when you start to talk about business. If you hate business or can't do it, and are beginning in this field, either learn it or get out of it. There's so much more to this than creating pretty pictures or placing "what you feel" onto the canvas.
You have marketing, goal setting, networking, financing and on and on. This is something 99% of the art schools don't teach you. Everyone that goes to school for Art, should have to take a business class. Not an "Art" business class, but a real one.
In about another year, I plan on doing art talks about just that… the real "Art" world. Not the fantasy. There's a reason why the successful artists I know has it together. This notion of the care free, unorganized artist is a joke. You will not succeed with out some sort of business foundation.
9. Are there any art shows coming up that you're participating in that you'd like to talk about? Or anything else you'd like to pimp today?
Well, I've been calling October my hell month for a plethora of reasons. I'll be in 3 art shows that will be my biggest (most popular) of the year, all that month. I'll be in Gallery 1988's Crazy for Cult (dubbed the Super Bowl of pop art), Spoke Art's Wes Anderson's Bad Dad's 4 and AMC's The Walking Dead.
I'll be hustling my artwork at craft fairs, comic cons, and horror shows around then too…plus I want to have my horror book in print by then… and I'm supposed to be a featured artists at this new venue called Dichotomy, out in Rochester.
As for my own projects, I purchased a screen printing business and will be creating a clothing line as well as toys. Over the winter I plan on doing art talks at various venues, like colleges and galleries.
10. I notice I didn't get my invite to that big fancy opening with the "pretty people"; will you make sure I'm on the next one?
I'll tell ya Mitch, a few months ago I was in NYC for a Scorsese tribute art show. It had a couple thousand of New York's hottest. What a great experience. I had passes, I could have gotten you in. You'll be VIP for the next one sir.